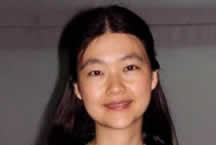 Leilei Tian: was born in 1971 in China. She began to study piano at the age of six. From 1988 to 1995, she studied composition with Zhenmin Xu in Central Conservatory of Music in Beijing and got her Master's Degree. In 1997, she went to Sweden to study with Ole Lützow-Holm in the Conservatory of Music in Gothenburg and got her postgraduate diploma in 2001.
Meanwhile she participated several master classes in Europe such as Internationale Ferienkurse Darmstadt (Germany), "Voix Nouvelles" at Royaumont (France), Workshop at Centre Acanthes (France), International Young Composers meeting in Apeldoorn (Netherlands), "Avantgarde Schwaz" International Academy for New Composition and Audio-Art (Austria), where she had opportunity to study with worldly well-known composers and professors such as Louis Andriessen, Brian Ferneyhough, Gerard Grisey, Salvatore Sciarrino and Boguslaw Schaeffer.
From 2002 to 2003 she attended the one-year professional training for electro-acoustic music in IRCAM (Institute for Music/Acoustic Research and Coordination at Centre Pompidou) in Paris and studied with Philippe Leroux, Jonathan Harvey, Tristan Murail, Brian Ferneyhough and Philippe Manoury. Since then she has been living in Paris.
Being highly creative and productive, she composed more than 50 works and regularly receives commissions by leading music institutions, festivals and ensembles.
Her music has been widely performed and well received internationally. Performers include Zürich Concert Hall Orchestra, Stockholm Royal Philharmonic Orchestra, Gothenburg Symphony Orchestra, Gulbenkian Symphony Orchestra (Lisbon), Strasbourg Philharmonic Orchestra, National Orchestra of Radio and Television of Serbia, Hongkong Philharmonic Orchestra, Beijing Symphony orchestra, Ensemble Intercontemporain of Paris, Ensemble Orchestral Contemporain of Lyon, Nieuw Ensemble of Amsterdam, Ensemble IntegralesofHambourg, Ensemble Zagros of Helsinki, Nouvelle Ensemble Moderne of Montreal, Ensemble Earplay of San Francisco etc during Festivals such as ISCM World Music Days, Festival Agora in Paris, Huddersfield Contemporary Music Festival in UK, La Biennale Venice in Italy, Gaudeamus Music week in Amsterdam, Festival Printemps des Arts in Monaco, Heidelberger Frühling International Music Festival in Germany, Festival 'Rainbow day' in Luxembourg, Igor Stravinsky Festival in Arhnem (Netherlands), Nordic Music Days in Helsinki, Stockholm New Musik, Beijing International Music Festival, Asian Music Festival in Tokyo, Seoul International Computer Music Festival etc.
Her music is also recorded on CDs and broadcasted by radios in many countries.
She is the winner of several important international competitions such as Besançon Composition Competition for orchestra in France (1st prize), Contemporary Music Contest "Citta' di Udine" in Italy (1st prize), Composition Competition of GRAME in Lyon (1st prize), Gaudeamus Competition in Amsterdam and ISCM (International Society of Contemporary Music) Cash Young Composer's Award.
From 2006-2008, she is the residence composer of CoMA Contemporary Music Center in Sweden.

Being awarded Prix de Rome (Rome Prize) by Academy of France, one of the world's most ancient and prestigious award for artists, now she has her one-year residency at Villa Medicis in Rome (2012 -2013) where she works on her first chamber opera.
In Leilei Tian's music, she successfully integrates those seemingly opposite aspects into a harmonic unity. There is no more conflict between tradition and modernity, occident and orient, masculine and feminine, drama and poetry, imagery and abstraction. For her, musical creation is not just a composition of sounds with various techniques, nor a mere esthetical product of a particular culture, but far beyond is the intuitive manifestation of one's inner experience and content, namely one's profound philosophical and spiritual expression that is universal and timeless in nature. Her pursuit for transcendental spirituality is the essential source that provides her inspiration, creativity, dynamic and meaning to her artistic works.

For more information :

CDMC (French Information Centre of Contemporary Music), page Leilei Tian
http://catalogue.cdmc.asso.fr/opacwebaloes/index.aspx?IdPage=26

IRCAM (Institute for Music/Acoustic Research and Coordination), Centre Pompidu, page Leilei Tian http://brahms.ircam.fr/composers/composer/3174/

Futurs Composés (National Network of Creative Music in France), page Leilei Tian
http://www.futurscomposes.fr/membres/personnes-physiques/
Academy of France in Rome -Villa Medici, page Leilei Tian
http://www.villamedici.it/en/resident/1722/tian/?of=27&d=2012
Svensk Musik/STIM (Swedish Information Centre of Contemporary Music), page Leilei Tian
http://www.mic.stim.se/avd/mic/prod/micv6.nsf/docsbycodename/soekresultat?opendocument&fraga=Leilei+Tian
FST (Swedish Composer's Association), page Leilei Tian
http://www.fst.se/composers/index.php?Bokstav=t
Foundation Adkins Chiti, Donne in Musica (Women in Music), page Leilei Tian
http://www.donneinmusica.org/wordpress/wimust/biographies-european-women-composers/t/532-leilei-tian.html
Babelscores Contemporary Music Online, page Leilei Tian
http://www.babelscores.com/leileitian
---
Copyright © 2012
All rights reserved